Electra Fire: Dozens Evacuated After Spending Hours In PG&E Power PlantRoughly 100 people were trapped inside the power plant as crews worked to respond to the fast-moving wildfire.
3 hours ago
Electra Fire Explodes To Nearly 1,000 AcresRoughly 100 people remain stuck in a PG&E powerhouse along the North Fork Mokelumne River.
4 hours ago
Dozens Stuck In Powerhouse As Wildfire Burns NearbyMore than 70 people are stuck in a PG&E powerhouse Monday evening as a fast-moving wildfire burns in the Sierra foothills near the Amador and Calaveras county line southeast of Jackson.
7 hours ago
More Than 100 People Trapped In Power Plant Near Electra FireOfficials say that deputies moved the people from a nearby and the fire has since trapped them in the power plant.
8 hours ago
Evening Weather Report: July 4, 2022Meteorologist Darla Givens reports on how long the cool summer weather will last.
8 hours ago
2 Wildfires Burning Fast In Sierra FoothillsOne of the fires is burning near Jackson; the other is burning near Bangor. Both have prompt evacuation orders.
8 hours ago
Crews Battling Fast Spreading Fire Near JacksonCounty officials have issued an evacuation warning in the area.
9 hours ago
Independence Day Parades Held Across Northern CaliforniaFor some, it was their first time returning to full force since the start of the COVID-19 pandemic.
9 hours ago
3 Men Presumed Dead In Delta IdentifiedAuthorities say the three were 22-year-old Edwin Perez, 40-year-old Danilo Solorzano and 57-year-old Edwin Rivas.
9 hours ago
Fire Departments Bracing For Busy 4th Of JulySac Metro Fire and surrounding agencies say they are staffed and ready to respond to fires sparked by fireworks.
9 hours ago
Protesters Shut Down I-5 In Downtown SacramentoThe demonstrators say they wanted to highlight the impact limiting abortion access with have on women's rights.
9 hours ago
Man Killed In Sacramento Night Club Shooting Identified As Greg GrimesHe was an assistant football coach at Inderkum High School in Natomas.
9 hours ago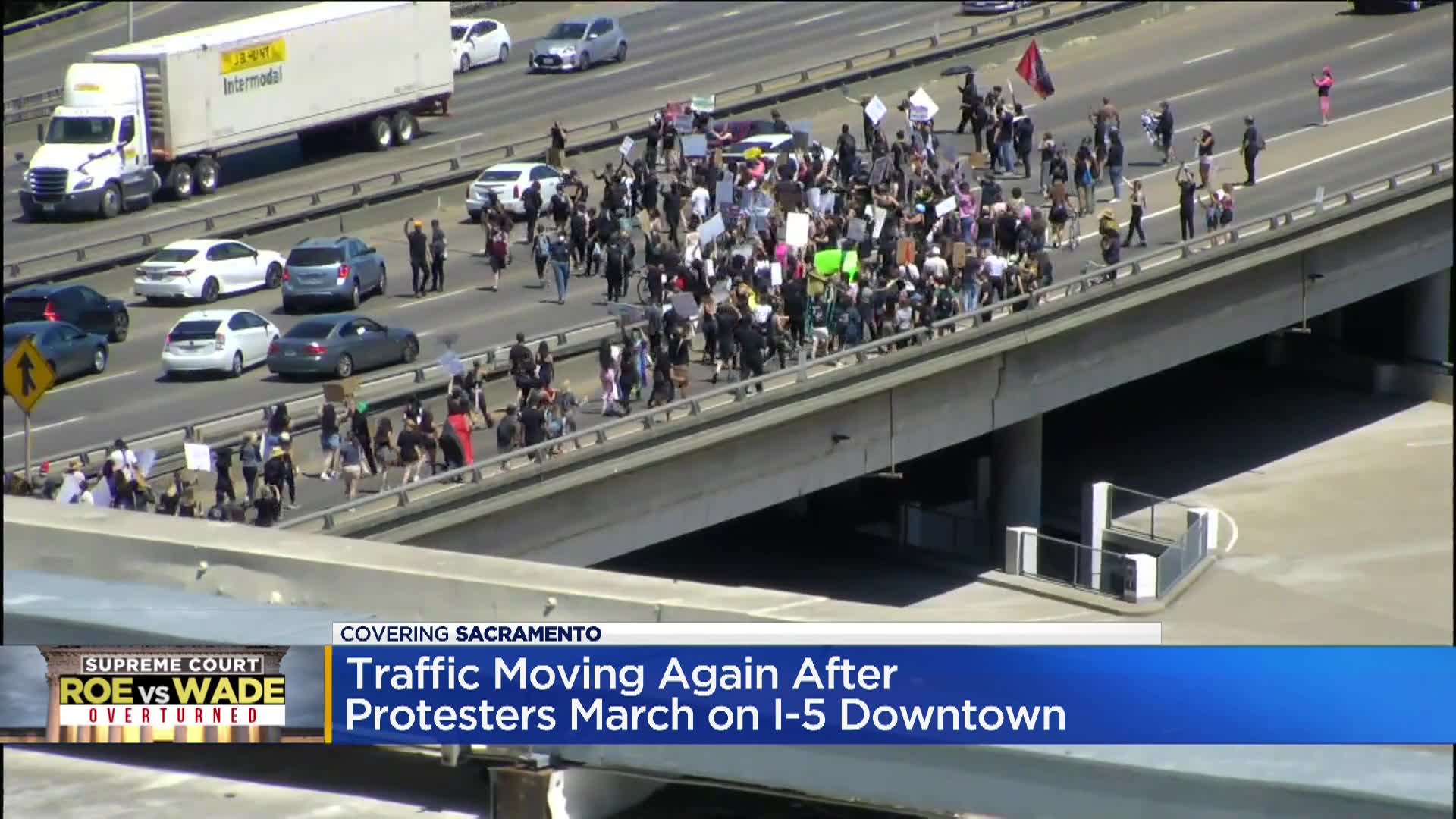 Traffic Moving Again After Protesters March On I-5 In SacramentoThe pro-abortion rights protesters blocked traffic for some time on the freeway.
13 hours ago
Child Rescued, 3 People Missing In Sacramento River Near Rio VistaThree men are missing and presumed dead in California after a child was caught in a river current and they swam out in an attempt to rescue him, authorities said.
13 hours ago
4th Of July Weather ForecastFind out what kind of weather we're expecting this holiday and this week.
14 hours ago
Lunch Break: New ProduceOur produce man Michael Marks has the best deals in seasonal fruits and veggies.
14 hours ago
Fire Crews Rescue Cat From House Fire In SacramentoThe fire happened early Monday morning in Midtown Sacramento.
14 hours ago
Protesters Walk Onto I-5 In Sacramento, Block TrafficThe protesters appear to be from an anti-4th of July protest that was happening at the California State Capitol earlier in the day.
14 hours ago
All Rice's Fire Evacuation Orders And Warnings LiftedContainment has risen to 65% as of Monday.
14 hours ago
Police Seeking Photos, Video In Shooting Outside Sacramento NightclubFamily members are identifying the man killed as 31-year-old Greg Grimes, a former standout player at Inderkum High who came back and was an assistant coach.
14 hours ago
Protesters March Onto I-5 In SacramentoProtesters blocked northbound Interstate 5 in Downtown Sacramento on Monday.
14 hours ago
East Sac 4th Of July ParadeEast Sacramento has been celebrating the annual 41st Street Parade for nearly 90 years now. Thousands are expected to join in the celebration this year, as they don their red, white and blue down 41st and 42nd Streets! Molly Riehl is taking us on a trip down memory lane as she joins in the fun!
16 hours ago
4th of July Potluck Continues – Tracy Brought Dessert!We've been having a potluck in the Good Day studio all morning, and it's finally time for dessert! Tracy has brought a key lime bundt cake…she thinks it's terrible. She's WAY too hard on herself…IT'S FANTASTIC!
16 hours ago
Summer Recipes With The Gypsy CowgirlBambi Porter, "The Gypsy Cowgirl," joins Tina again with another tasty summer recipe!
16 hours ago