FEMA inspects local levee repairs
FEMA inspects local levee repairs
01:36
RANCHO MURIETA — The federal government has boots on the ground and up in the air assessing the damage and flood mitigation efforts across the region.
"I thought it would be better to show them from the air than on the ground so they can connect the dots on what we've really saved out here, besides just farm ground and houses," said Leland Schneider with Reclamation District 800.
Schneider put together a tour after emergency officials called and said FEMA was in town. He wanted to show them the levees along the Cosumnes River and emergency temporary repairs made after several breaches in their district earlier this month.
"So when the emergency evacuations were in place, RD800 worked hard to keep those two roads open for people to drive on because also Dillard Road was closed at [Highway] 99 and 99 was closed," Schneider said. "So the only way around was Wilton Road Jackson Highway."
They met privately before taking off, then toured for about an hour. Schneider relayed his concerns about how fast and high the river is running, even now after the threat of flooding is over and how it's eating away the underside of the saturated soil and putting more pressure downstream — an issue given the snowpack in the Sierra. Schneider said it goes beyond funding to form a governing entity.
"If they want to do an expansion, I think they should form another reclamation district on the west end of those levees down there," he said, for more oversight and federal funding.
Schneider added, "That's out of my realm, above my pay grade, but I hope they can help those people down there like they did us in 1997-98."
We have repeatedly asked for comment from FEMA but have not received a comment as of the publishing of this story.
Rachel Wolff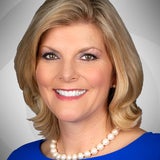 Thanks for reading CBS NEWS.
Create your free account or log in
for more features.