Residents Flock To Folsom Lake For Water Fun This Holiday WeekendFolsom Lake is above 109% of the historical average, which is a big draw for locals.
2 minutes ago
Nancy Pelosi's Husband Arrested On DUI ChargeSpeaker of the House Nancy Pelosi's husband, Paul Pelosi, was arrested on suspicion of DUI in Napa County.
5 minutes ago
Fire Burns At Junkyard In South ModestoSeveral firefighting crews are at a south Modesto junkyard along Crow's Landing Road. Firefighters are working to contain the fire to just the junkyard.
6 minutes ago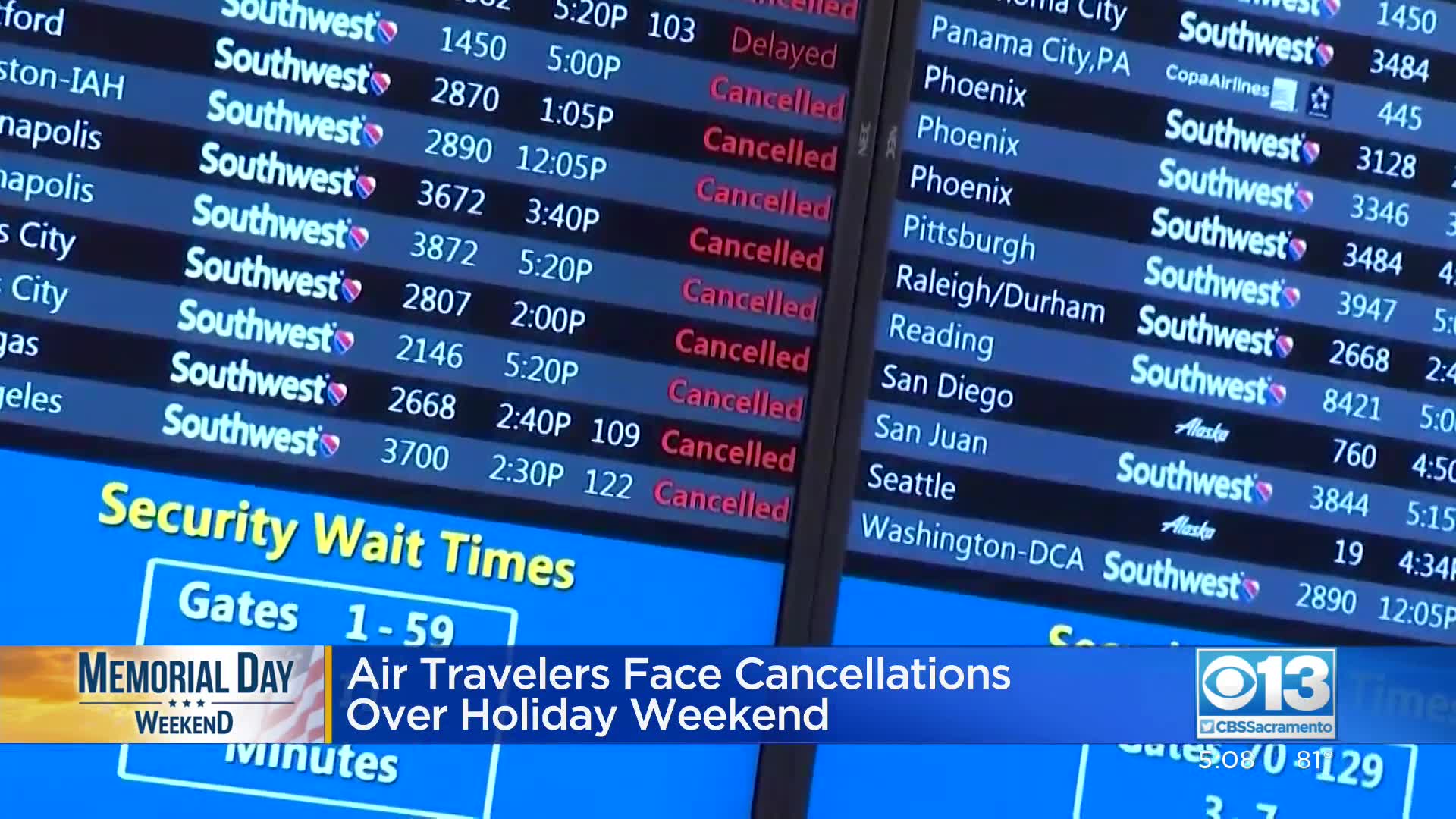 More Than 1,500 Flights Canceled In USMany of Saturday's cancellations were called by bad weather and air traffic control's handling of flights, Delta Airlines says.
9 minutes ago
Pair Of Shooting Incidents Injure 3 People In SacramentoThree people were injured in two separate shooting incidents overnight in Sacramento. The shootings, which may be linked, happened just minutes from each other.
11 minutes ago
Gas Prices Still On The RiseThe average price of a gallon of gas is $6.14 in California.
13 minutes ago
Davis Preparing For Pride MonthDavis's LGBTQ+ pride celebration will be happening in June. Preparations are underway to transform certain areas around Central Park for the event.
13 minutes ago
Saturday Evening Forecast – 5/29/22Below-average temperatures have given us a relatively mild holiday weekend so far, but there's a warm-up is in store. Jordan Segundo has more.
17 minutes ago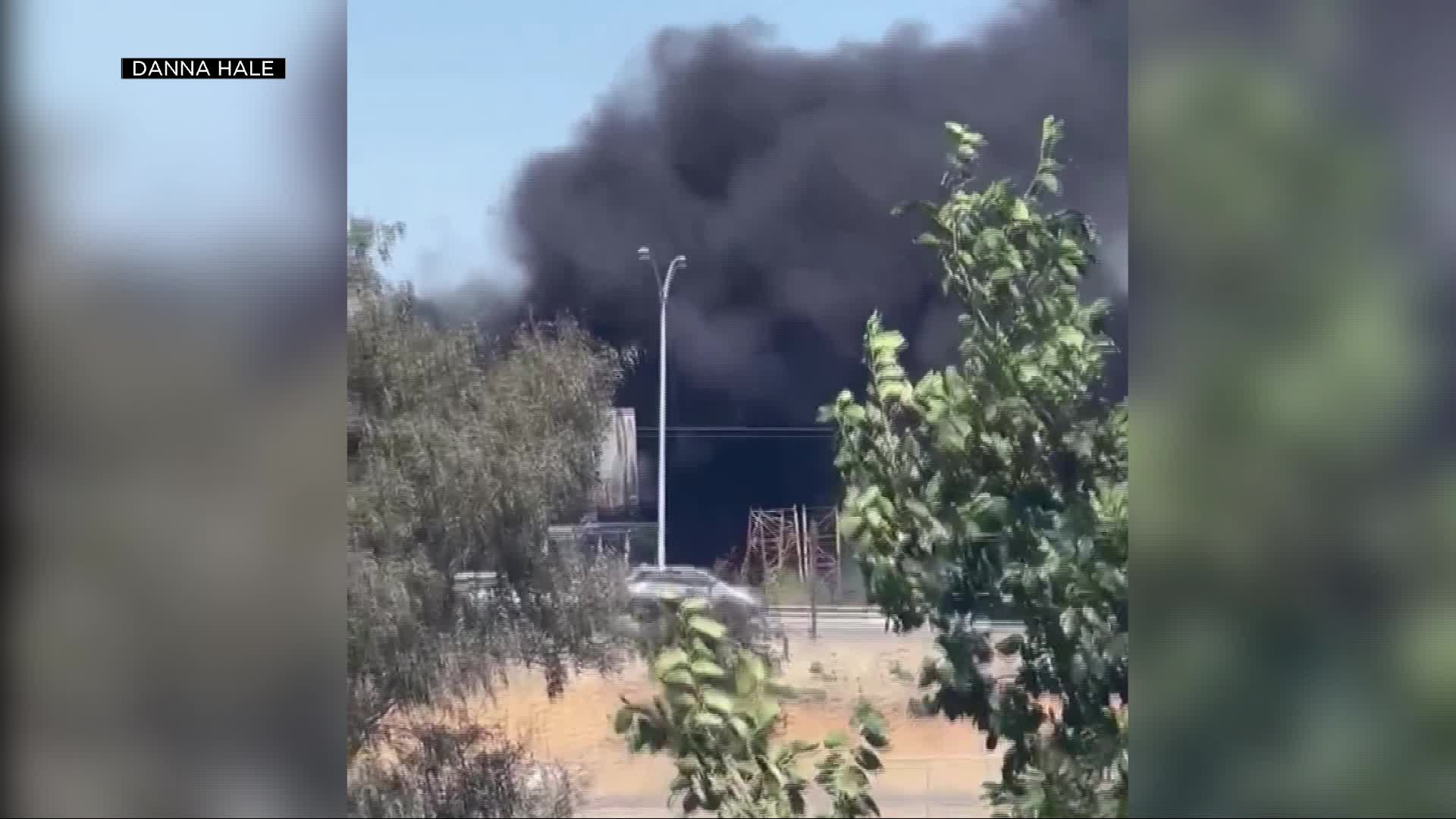 Fire Breaks Out At Modesto JunkyardA fire at a junkyard in Modesto Sunday sent a large plume of black smoke into the sky.
27 minutes ago
Mtula Payton Arrested In Connection With Downtown Sacramento ShootingA suspect on the run since a mass shooting left six people dead during an alleged gang dispute in California's capital city last month has been arrested in Las Vegas, authorities said. Investigators believe Mtula Payton was one of the alleged gang members who opened fire in downtown Sacramento on April 3. He was taken into custody at an apartment complex, the Sacramento Police Department said in a statement Saturday night.
55 minutes ago
1 Person Injured In Oak Park ShootingAt around 12:36 am Sunday, police received the report of a shooting in the area of ​​34th Street and 14th Avenue. Responding officers found a woman who was shot at least once. She was taken to an area hospital.
58 minutes ago
Several Gun Bills In The SenateSeveral gun bills are in the Senate, one about gun sellers and one about marketing guns to children.
19 hours ago
Local Family Taking Action In Wake Of Texas School ShootingThe extended family of a surviving student here in Sacramento speaks out about the Texas school shooting.
19 hours ago
Expensive Plant Stoles From Davis StoreA Davis business was hit by thieves who targeted a certain, pricey plan, leaving the owners to make the best of the incident.
19 hours ago
Sacramento County Fair ReturnsAfter a long hiatus, the Sacramento County Fair returns.
20 hours ago
CBS13 PM News Update – 5/28/22The latest in weather and news.
1 day ago
Saturday Evening Forecast – 5/28/22The latest weather forecast for the Sacramento region.
1 day ago
Mother Killed In Crash Identified By Suspected DUI DriverA mother who was killed in a DUI crash has been identified along with her 4-year-old daughter.
1 day ago
Highway 12 Pile Up Crash UpdateAn update to the Highway 12 pile-up crash from Friday, causing five people to be injured.
1 day ago
Sacramento County Fair Returns For Memorial DayWith Memorial Day comes the return of the Sacramento County Fair, returning after a COVID hiatus.
1 day ago
Fire Destroy Outbuilding In North HighlandsCrews put out a vegetation fire in North Highlands that was threatening several structures.
1 day ago
Party At Carmichael Apartment Ends With Deadly Shooting Of MinorAuthorities are investigating after a minor was shot dead overnight at a party at an apartment complex in Carmichael.
1 day ago
Governor Newsom Tests Positive For COVID-19After experiencing minor symptoms, the Governor tested positive for COVID-19 this Saturday morning.
1 day ago
Inside The Real Top Gun Training SchoolBefore the stars of "Top Gun: Maverick" flew onto the big screen, they spent a month and a half flying and training at the elite TOPGUN naval facility in Fallon, Nevada. Simply stepping onto the tarmac at US Naval Air Station Fallon makes it easy to embellish the experience knowing it's a place unlike any other.
2 days ago