Heavy rain and strong winds rip through Northern California
Heavy rain and strong winds rip through Northern California
02:33
MODESTO – Northern California communities are gearing up for another round of wild weather. In Stanislaus County, the National Weather Service issued two tornado warnings in Modesto overnight People woke up to heavy rain, roaring thunder, and lightning throughout the area with video recordings from Turlock, Modesto, and Oakdale.
"It's pretty scary because we don't really see that around here in this area," said Giselle Tadeo of Denair.
The lightning flash illuminated the early morning sky as the National Weather Service issued two tornado warnings.
"I got the alert around 3:45 am So, I saw the thundering, the lighting – all of that," Brittney James said.
Others woke up not realizing what had happened, but were shocked, nonetheless.
"I was like, 'Oh, my gosh,'" BJ Davis said. "I was asleep at that time."
The agency said it did not receive any reports of tornadic activity or straight-line wind damage.
Cells moved throughout the day over Hwy. 99 with sporadic bursts of heavy rain where drivers saw signs encouraging people not to travel. While water levels at Tuolumne River are down, the Central Valley Incident Management Team is keeping a watchful eye on Dry Creek.
An evacuation warning remains for people living in flood-prone areas. As ominous skies move over the area, many are just understanding they may not be ready for this type of weather.
"It's kind of crazy," Samantha Magana said. "You don't even know if it's going to rain. We're not like prepared for tornadoes and stuff."
The National Weather Service has not received any reports of damage related to a possible tornado.
Shawnte Passmore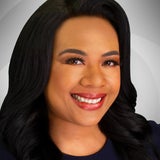 Thanks for reading CBS NEWS.
Create your free account or log in
for more features.