As another major storm makes its way out of Northern California, four more winter storms are expected to impact the region over the next several days.
Storm 1: Saturday PM – Sunday Midday
Storm 2: Early Monday – Tuesday
Storm 3: Thursday – Friday
Storm 4: Saturday, Jan 14
We now have four straight First Alert Action Days for Saturday through Tuesday. CBS Sacramento will have extensive storm coverage each day.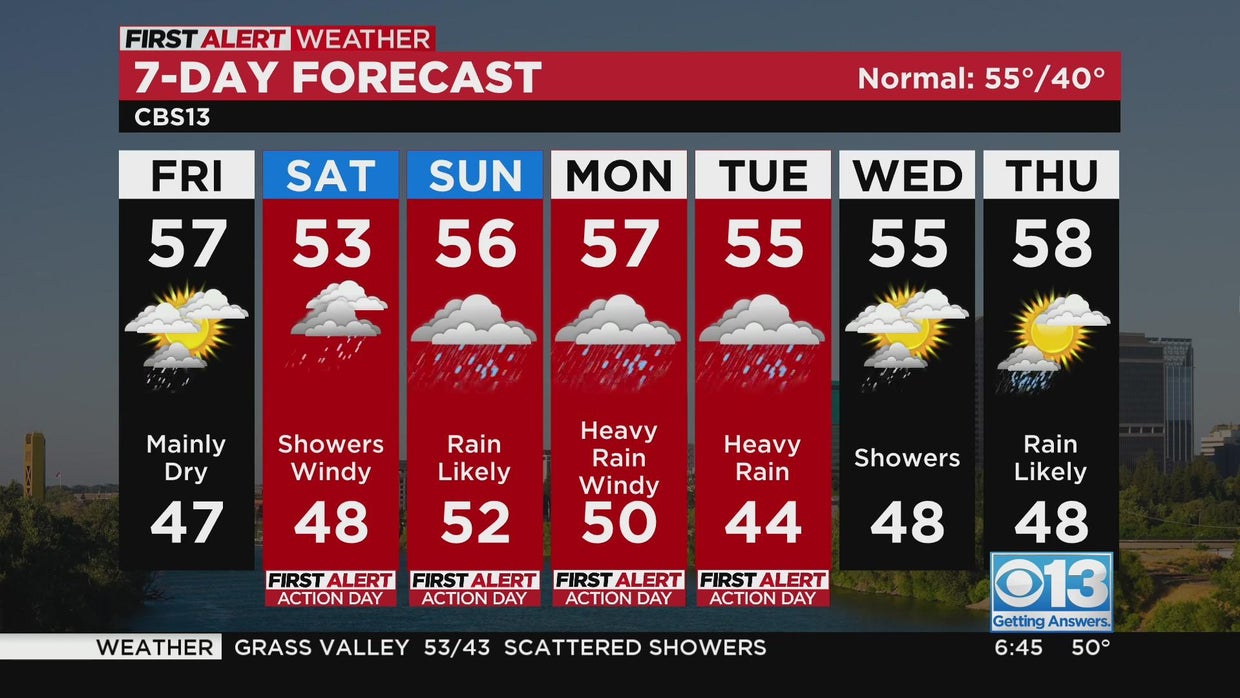 Storm #1:
This will bring gusty winds and heavy rain this weekend. Expect a quiet start to Saturday but showers will pick up in coverage later in the day, some of which may produce heavy rain. This may result in localized pockets of flooding. We anticipate strong winds Saturday evening and Saturday night, gusting 40-50 miles per hour. Overall, this will not be as strong as the last storm but the combination of soaked grounds and weakened trees will likely result in outages across the area.
Storm #2:
This one will bring much heavier rain and stronger wind gusts to the region as soon as early Monday. Winds will likely gust 50-55 miles per hour, with pockets of up to 60 miles per hour as early as Monday morning and continue through the day. Rain will be heavier and last longer, renewing the chance for flooding region-wide. This storm will hit the San Francisco Bay Area especially hard with the potential for life-threatening flash floods.
Precipitation Amounts Combined:
Rainfall between the first two storms will range from 3-6 inches in the Sacramento Valley. The Sierra Foothills should receive a whopping 5-10 inches (locally, 12 inches or more) of rain.
Snow in the Sierra will turn to rain with the second storm as snow levels rise to 7-8,000 feet Monday, then dropping as low as 6,000 feet Monday night. Overall snowfall between both storms will range between 3-7 feet in the higher passes.
Flood impacts:
A few rivers to monitor next week include the Cosumnes, Sacramento, Yuba, and Bear rivers. Many small streams will approach the monitor stage. If rainfall amounts verify, we could see water flow into the Yolo Bypass and many segments along the Sacramento River approaching the monitor stage. If rainfall amounts verify at the high end of our range, we will be in for a potentially significant flood event of small rivers and streams with main rivers well into the monitor/ action stage.
Storm #3 & #4
Both storms later in the week do not appear to be as strong or as wet as the early week storm. We will monitor the development of those storms and will pass along more info as the forecast becomes more clear.