Evening Forecast – 6/9/22Friday is going to be a hot one!
48 minutes ago
Status On Local Suspects In US Capitol RiotSeveral of the suspects being investigated for their part in the US Capitol riot are from our area. Julie Watts has the latest on where their cases stand.
55 minutes ago
Pride Flag Stolen In Sacramento Leads To Concerns Theft Is Anti-LGBTQIA+The flag's owner feared she was targeted because of Pride Month, but said it inspired her to speak out as a way to say she will not be silenced.
1 hour ago
Local Ukrainian Church Hosts Day Camp For Children Displaced By Russian InvasionSacramento contains the biggest expat community of Ukrainians in the United States. With the country's war with Russia passing its 100th day, one local church is helping children touched by war find a smile again.
1 hour ago
Cal Fire On Pace For Record Year Of Arson ArrestsCal Fire is already on pace to break the arson arrest record the department made in 2021, and with conditions getting hotter and drier earlier in the season they're asking for the public's help.
1 hour ago
Crews Battle Grass Fires Around The RegionFirefighters got a handle on multiple blazes around the Sacramento region on Thursday.
1 hour ago
Water Shortage Declared In West SacramentoWest Sacramento residents are being hit with water cutbacks.
1 hour ago
How To Stay Cool In Sacramento HeatIf you can't make it to the pool, there are other ways to beat the heat in Sacramento.
4 hours ago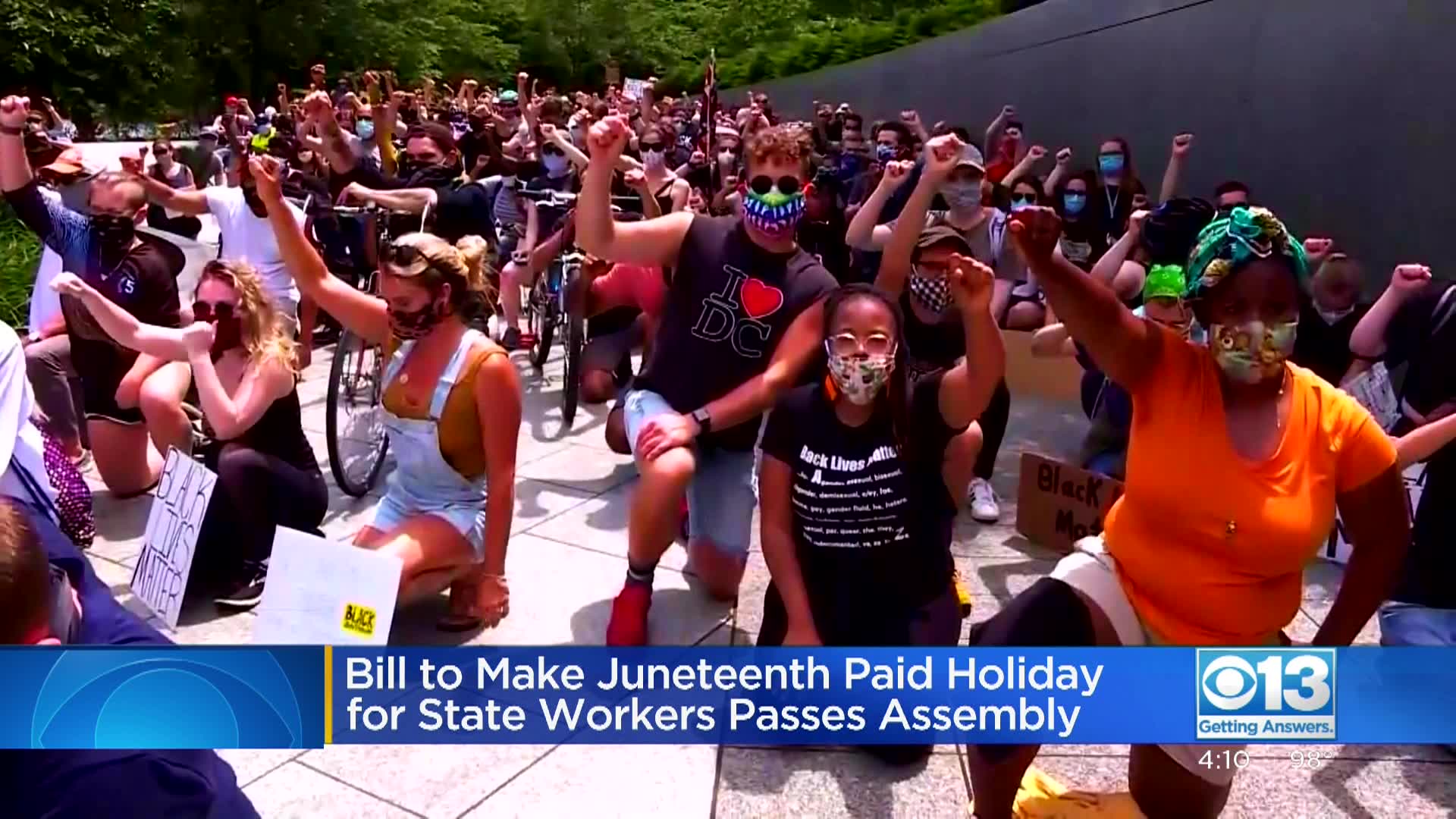 State Assembly Approves Bill Making Juneteeth Paid Holiday For State WorkersThe California State Assembly passed a proposal to make Juneteenth a paid holiday for California state workers. The bill now heads to the Senate. Juneteenth observed June 19th, 1865, the day slaves in the south learned they had been freed.
4 hours ago
Sacramento County Jail Error Leads To Wrongful Release Of Inmate Serving LifeThe Sacramento County Sheriff's Office acknowledged Thursday that an error at the Main Jail led to a wrongful release of a violently convicted felon who was sentenced to life in prison.
4 hours ago
Man Wanted For Allegedly Shooting, Killing Wife In StocktonDetectives are looking for a man suspected of shooting and killing his own wife in Stockton.
8 hours ago
Sacramento Mid-day Weather Forecast: June. 9, 2022Here's how the next seven days of weather is going to look.
8 hours ago
Madison ShamounACTRESS, MADISON SHAMOUN JOINS US TO CHAT ABOUT HER LATEST PROJECT…
10 hours ago
Kitchen 747LOCAL BAR AND GRILL IS PERFECT FOR GAMES, SPORTS AND OF COURSE… CHOWING DOWN!
11 hours ago
Big Trucks SummerGAMES AND ACTIVITIES HAPPENING AT THIS YEAR'S 'BIG TRUCKS SUMMER.'
11 hours ago
Aquatics Summer Camp 9amKAYAKS, CANOES AND SO MUCH MORE
11 hours ago
MoJoe's Cafe & Creamery MarketGET YOUR MORNING FIX OF COFFEE
12 hours ago
Aquatics Summer CampOUT ON THE WAVES AS SUMMER SET IN.
12 hours ago
Fairytale TownKEEP THE LITTLE ONE'S COOL AND ENTERTAINED DURING THE HEAT WAVE..
13 hours ago
Summer Fashion IdeasSTAY COOL FROM WHILE STILL LOOKING FASHIONABLE.
13 hours ago
Lodi Craft BeerLODI'S CRAFT BEER FESTIVAL!
13 hours ago
CBS13 News AM News Update – 6/9/22The latest headlines.
13 hours ago
Thursday Weather Forecast – June 9, 2022Find out what kind of weather we're expecting as we end the week on a hot note.
13 hours ago
Cameras Designed To Catch People Speeding By Sacramento School Buses DebutedThe Sacramento City Unified School District debuted new cameras attached to school buses to catch people speeding by stopped buses.
14 hours ago