Tahoe Park neighbors weather the storm to help pick up the pieces
Tahoe Park neighbors weather the storm to help pick up the pieces
02:28
TAHOE PARK (CBS13) – People in the Tahoe Park neighborhood of Sacramento are still stunned by the storm damage, including downed trees and piles of branches in the roads.
Audrey Trevino couldn't believe how much damage the wind and rain could do right in her front yard. The storm left a massive tree uprooted and topped over across her aunt's car and her neighbor's truck.
"I was in total shock. I wasn't expecting this at all. This storm obviously hit harder than most of us expected," said Trevino. "I was just shocked. I didn't know what was going on. I just saw this big old tree across the whole street."
She's not the only one with a lot of cleanup on her hands. Down the street, another large tree fell, taking out a neighbor's house and car. A view from above shows just how much damage was done in near 50th Street and 10th Avenue.
"It was hard. It's not easy being here alone in the darkness, but thanks to God we're pulling through," said Trevino.
Audrey went without power for roughly four days. She's relieved the lights finally came back on, but is more relieved everyone is OK. Neighbors have been helping each other chop up the large trees and move the pieces. It's becoming a community effort to help everyone get back on their feet.
"I couldn't imagine if somebody were to get hurt. I mean, people were walking their dogs around here throughout the night even, that's scary. I'm just thankful that nobody was hurt," said Trevino.
Marlee Ginter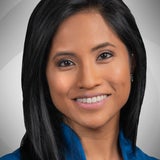 Thanks for reading CBS NEWS.
Create your free account or log in
for more features.