SACRAMENTO (CBS13) – As flood waters continue to rise, neighborhood cats could be in trouble.
River cats aren't just Sacramento's minor league mascot. The friendly feline can be found hanging out along the river that divides two cities, but the cats are now in trouble.
"I need help because we have two cats over here stuck right above water," says David Johnson, who lives in Sacramento and cares for stray cats along the Sacramento river.
Cats are caught in trees, and with flood waters rising, the situation could be dire.
"That one's 'Blue' and 'Sime.' I come out here on my lunchtime and feed them," says Johnson, who says he saw his cats in danger in the Sacramento River — stuck above flood water.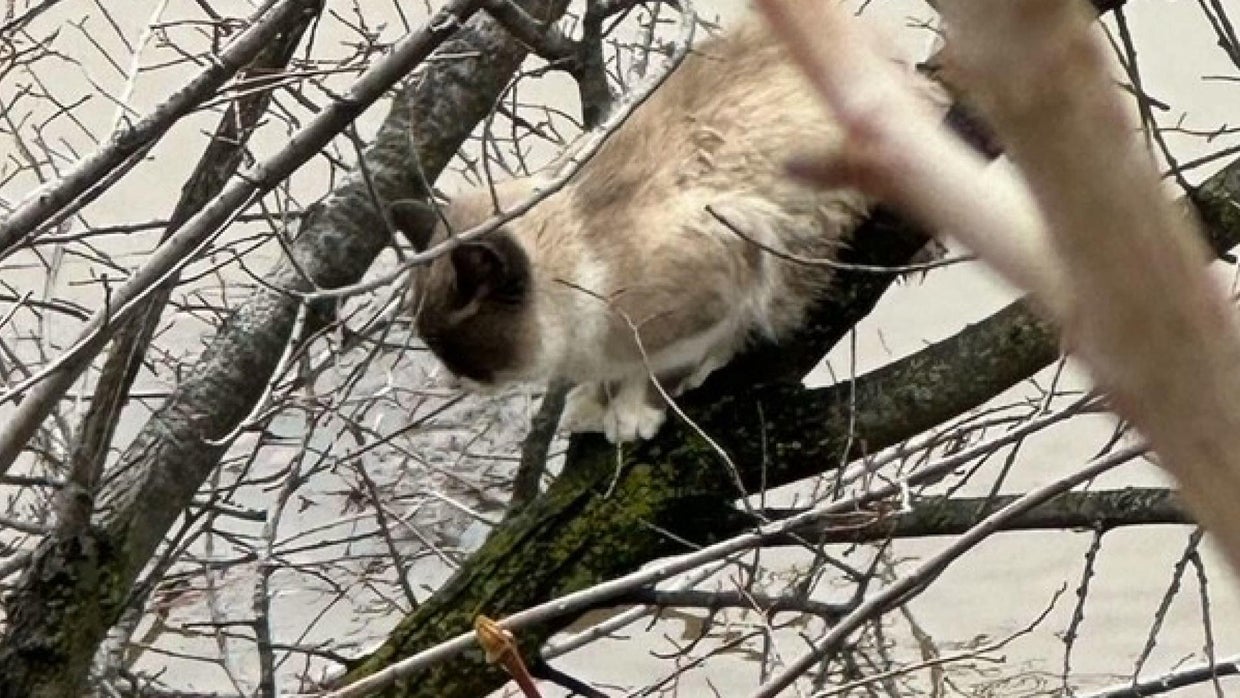 One of the river cats that was spotted.
People's Budget Sacramento
So while Davis kept the cats fed, fellow neighbors stepped in to help.
"People can figure themselves out of a situation, and if you're a cat, our instinct is to wait it out until you can get down and I didn't anticipate that ending well," says Andrews, with People's Budget Sacramento. He gathered helpers to rescue the cats.
"Some friends had a raft. She went out and tried to reach the cat. It was hissing at her and so he wasn't able to get a hold of it," said Andrews.
Then Andrews says an unhoused man offered to help.
"He was able to get a hand on the cat pulled it out of the tree set it in the raft and it took off and jumped out of the raft and into the water…and swam down to another tree. They are really fast swimmers, apparently," says Andrews.
After several tries, Andrews got creative building makeshift ladders in hopes that the cats
"So I ran over to Lowe's, picked up wood for that, and put something together to give them enough of a slope so they could walk up. They knew the direction to get out so it's more of a waiting game to make sure they can get out of there," says Andrews.
In time as waters rise and remain cold, the cats' time may be running out.
CBS13 reached out to the Sacramento City Fire Department which tells us they responded to a cat rescue call along the riverfront, but after a risk assessment, they determined the rescue could put fire personnel in danger and they're prioritizing resources to help people.
When the cats do make it out, the groups plan to take them to a shelter for medical care immediately.