FRESNO STATE — Stories inspire us. They connect us. They inform us of all the wonderful things — and sometimes challenging things — happening at the Fresno State campus that holds a special meaning to so many in the Central Valley and beyond.
Stories are how we relate to one another, and oftentimes stories spark us to take action — whether it's giving to a worthwhile cause, attending an event or rallying support. At Fresno State, stories create a bond between thousands of alumni, friends, students, prospective students and other community members.
Here is a glimpse, in no particular order, at some of the editor's picks for the top 22 stories of 2022 — from the biggest campus news to the most touching and well-done storytelling from the university over the past year.
'Unseen Data': How measuring the university's impact goes beyond the rankings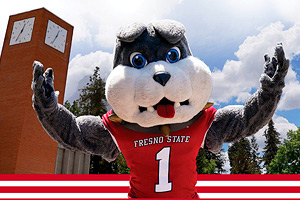 How do you measure the impact of a university? With many in academia and the media scrutinizing the validity of popular college rankings systems, it's a fair question, one that has surfaced quite a bit of late. Journalists and academics alike have called rankings systems into question. At Fresno State, rankings are just part of the picture that demonstrates the university's value to students and to the region — and the university has had some rankings to be proud of recently.
Bulldog Football Year in Photos: A championship season in the making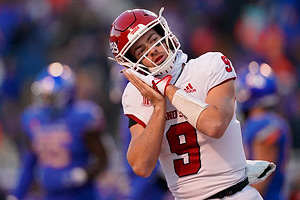 After some tough losses and injuries to star players, including quarterback Jake Haener, Fresno State limped to a 1-4 start in a season that began with so much promise. Behind the resilient, unwavering approach of coach Jeff Tedford, the Bulldogs never lost hope, winning nine straight games to finish the season, including a dominant Mountain West championship win at Boise State and a blowout win over Washington State in the Jimmy Kimmel LA Bowl with an estimated 27,000 Red Wavers in attendance. Fresno State became the first team in NCAA history to start 1-4 and finish with 10 wins.
Carnegie elevates Fresno State's research classification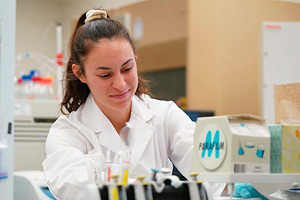 On the strength of significant growth in research activities in recent years, Fresno State has been elevated to "Doctoral University — High Research Activity," or R2 status, according to the most recent Carnegie Classification of Institutions of Higher Education. Only 14 California universities share this designation, including seven universities in the CSU system. The University received a record $57.7 million in research grants and contracts to fund projects across campus in 2021-22: from Alzheimer's research to energy innovations, from public health needs to the support of dairy businesses.
Photo Gallery: Explore the new Resnick Student Union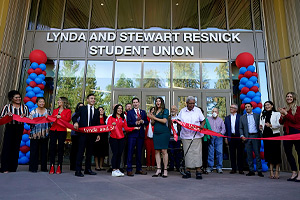 Fresno State officially opened the new, state-of-the-art Lynda and Stewart Resnick Student Union on Oct. 4 in the heart of campus, just south of the Kennel Bookstore. In March 2018, Fresno State students voted to construct a new student union to welcome and accommodate a growing student body on campus. As longtime supporters of Fresno State's mission to support the San Joaquin Valley's brightest young minds, philanthropists Lynda and Stewart Resnick, co-owners of The Wonderful Company, pledged $10 million to make this new facility a reality.
How Fresno State partnered with Fresno Chaffee Zoo on new Kingdoms of Asia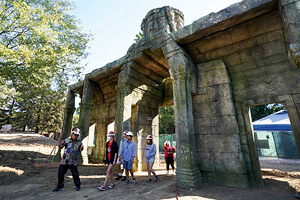 Gazing up at the intricate rockwork beneath the remnants of an ancient Cambodian temple, a group of students follows its professor through the entryway as if it's a portal into another time and place. The dense jungle landscape has reclaimed the temple, with trees sprouting high atop the structure and roots as thick as boa constrictors seemingly squeezing the stone façade into submission. As birds chirp and siamang apes sing nearby, the group scans the horizon, wary of predators. Just a few feet away is a gently flowing stream, known as a popular watering hole for Malayan tigers, and home to the Sunda gharial, a large crocodilian species. What an adventure this is going to be.
Fresno State president shares cherished apple pie recipe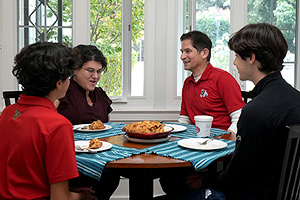 In the white-tiled kitchen accented with blue and red, baking an apple pie is a family affair for Fresno State President ​Saúl Jiménez-Sandoval, his wife and their two sons. It's a crisp fall morning at the University House, and the sun lights up the space – it's an uncharacteristically relaxed moment for an ordinarily busy family who relishes its time spent cooking. Jiménez-Sandoval describes the types of apples he uses in the recipe. "I use opal, honeycrisp and envy," he said, explaining the qualities of each variety. "You need firm apples," he shares excitedly, "but the secret is in the sauce."
'Chase Closed': Aaron Judge is the new American League home run king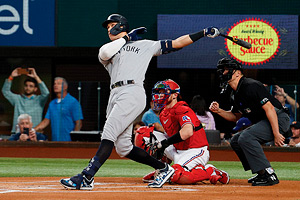 For 61 years, Roger Maris held the all-time American League single-season record of 61 home runs. Now, that record belongs to Aaron Judge, the Fresno State alumnus and New York Yankees superstar who hit his 62nd home run on Oct. 4, the day before the regular season ended. As the Yankees dugout emptied, Judge's parents, Wayne and Patty — both Fresno State alumni themselves, and retired teachers — were in the stands behind home plate celebrating the culmination of a historic home run chase.
Peacocks expand their giving with a $7 million planned gift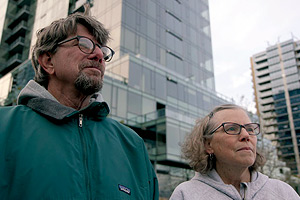 Across the arc of their lifetime, Gary and Marlene Peacock's time in Fresno was relatively brief. Both were born and raised in other places, and they left shortly after graduating from Fresno State to begin their respective careers in the Bay Area's technology industry. But their time as Fresno State students holds great meaning and memory in their life story — so much so that they want to give back to the campus where their romance began and pay tribute to Marlene's father in the process.
English professor named finalist for Pulitzer Prize in Poetry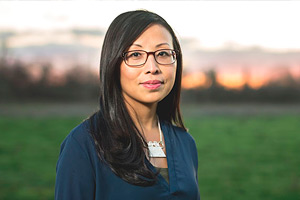 Author and Fresno State professor Mai Der Vang was honored as a finalist for the Pulitzer Prize in Poetry, for her groundbreaking book of documentary poetry, "Yellow Rain." The book integrates archival research and declassified government documents to examine the biological warfare that threads through wars involving Hmong people. In lyrical poems of witness that defy historical erasure, "Yellow Rain" acknowledges those who perished and the trauma of those who survived. Vang, an assistant professor of English, is the first Hmong American to be recognized in the 106-year history of the Pulitzer's arts and letters prizes.
First Sign of Success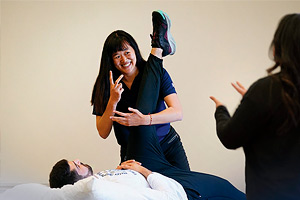 Erin Ruiz and Dianna Clayton have attended hundreds of hours of physical therapy classes, clinics and even a complex cadaver and anatomy lab during the past three years — but they're not the ones who just graduated with a doctoral degree. That would be Qiaofei Catherine Obrero, who, in May, became the first Deaf graduate in the program's history. As two of her American Sign Language interpreters, Ruiz and Clayton were by Obrero's side through every lecture, evaluation, shoulder rotation and knee bend en route to her doctoral of physical therapy degree.
Victor E. Bulldog IV makes Fresno State debut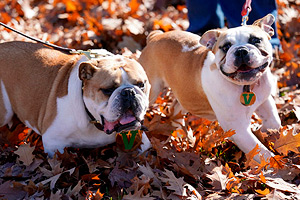 A new chapter unfolds as Fresno State welcomes its next live mascot, 5-month-old Victor E. Bulldog IV. "It's exciting to be able to celebrate the live mascot legacy as a community," said Jacqui Glasener, executive director for the Fresno State Alumni Association. "As the only CSU campus with a live mascot, we are distinguished among our peers for the Bulldog spirit we bring to 300,000 alumni worldwide. Both Victor E. III and Victor E. IV will work together into spring 2023, when a changing of the collar ceremony will officially induct Victor E. Bulldog IV as Fresno State's acting mascot.
Philanthropy at Fresno State supports scholarships, student success programs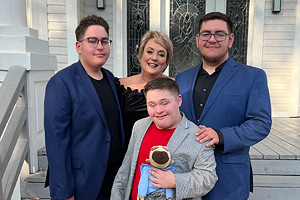 When Derek Carr and Davante Adams were Fresno State student-athletes, they spent three hours one day signing autographs and talking to students at the Diamond Learning Center in Clovis. At the end of the visit, the football stars, who are now teammates for the Las Vegas Raiders, posed for a group photo that still hangs in the center. When the Diamond Learning Center students see Carr or Adams on television today, they remember what it felt like to have the athletes spend time with them, said owner and founder Jami Hamel-De La Cerda.
A Winning Mindset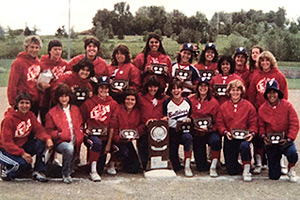 The fall issue of Fresno State Magazine recognized 100 moments and milestones that helped shape Fresno State athletics. Within that feature were numerous achievements from one of the most storied programs on campus – Bulldog softball. It's a program that, for decades, proved to be one of the nation's elite. A national record 30 straight NCAA Tournament appearances. Twelve Women's College World Series appearances. A national championship. Attendance records. All-Americans. Olympians. But before any of that came the team that started it all.
Jordan College awarded more than $18 million in state funding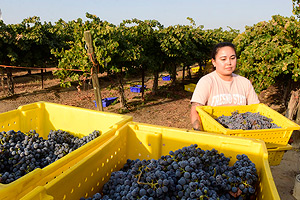 Fresno State's Jordan College of Agricultural Sciences and Technology will receive $18.75 million in one-time funding from the state in its 2022-23 budget to provide infrastructure needed to build programs that prepare future generations for regenerative agriculture practices. This will build long-term stability for food and agricultural systems in the face of changing climate patterns. California's 2022-23 budget, signed by Newsom on June 30, included $75 million earmarked for CSU farms to make equipment and infrastructure improvements to the university's agricultural production units.
Marketing prof uncorks the challenges of Black wine entrepreneurs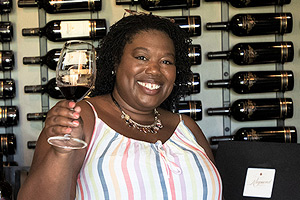 Dr. Monique Bell envisioned herself frolicking in the vineyards of California's Black-owned wineries while conducting research in fall 2020, but the pandemic had her settle for Zoom calls instead. Bell, an expert in marketing communications and strategy with an interest in the influence of culture on marketing effectiveness, developed an interest in the Black wine entrepreneur experience after a February 2017 trip to the Black Vines Festival in Oakland. "Not only did I see Black people consuming wine and enjoying it, but I got to meet Black owners of vineyards and wine brands," Bell said.
Fresno State wins club rugby national championship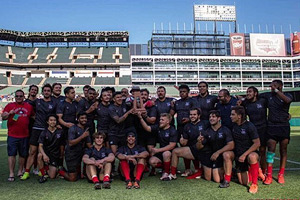 Fresno State's club men's rugby team completed its undefeated season with a 22-17 win over Kansas to earn its first national championship. The club, created in 2009, claimed American College Rugby's DI-AA national championship at Choctaw Stadium in Arlington, Texas. "Being able to lead the team as we make history for Fresno State feels like nothing I've felt before," said team captain C.J. Banuelos as the team prepared for the game. "Just thinking about winning that trophy makes me tear up a little, and I know it gets the rest of the boys fired up.
Fresno State, broader community celebrate investiture of President Jiménez-Sandoval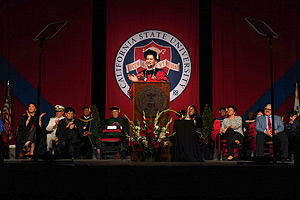 The investiture ceremony for Fresno State's ninth president, Dr. Saúl Jiménez-Sandoval, wove together iconic threads representing the Valley's history and elements of his personal and professional trajectory during his time in this fertile land. And throughout, Jiménez-Sandoval emphasized that "every thread matters" when it comes to advancing student success, promoting the university and solving tough challenges. It is CSU policy to hold the investiture during the new president's first year in office or at the conclusion of the first year.
Syria to Fresno: Student designs refugee center inspired by her experience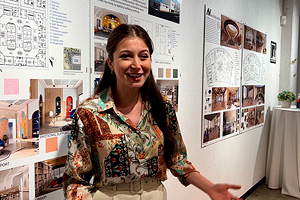 The bus ride was long and frightening. The trip that typically took six hours took Dalia Moudarres more than 18 hours. "It was so dangerous. They plant bombs in the street so any car that goes there explodes," Moudarres explained. "You also can't tell if it's going to happen to you or the other person because it happened to other people before me or after me." Moudarres' goal was to get from Aleppo, Syria to Turkey and take a plane to the United States in hopes of finding safety during Syrian civil war. In normal times, she would drive a little over an hour north to get to the Turkish border.
8 power tips for job hunters, including recent grads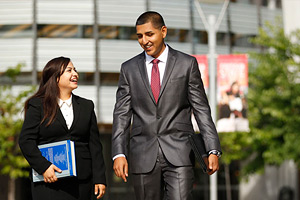 Finding a professional job after college doesn't have to be stressful, if you take a systematic approach, according to Micheala Bojorquez-Ford and Patricia Turnbull, two faculty experts on job searching from the Craig School of Business at Fresno State. Bojorquez-Ford and Turnbull offer these tips for successful job hunting.
Alumnus honors mother with gift to Kremen School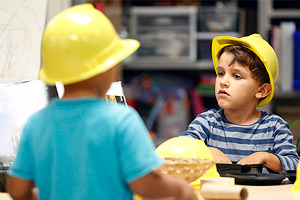 In December 2020, Fresno State alumnus Chuck Hudelson was looking to make a donation to the University in honor of his mother, Mildred. He wasn't sure where he wanted his $100,000 IRA rollover monies to go, but when he shared with the University his mom's passion for teaching, it was an easy decision. "Teaching just lit up my mom's life," he said. "Teaching children thrilled her every day." Hudelson's gift funded a "Reggio-inspired" classroom in the Joyce M. Huggins Early Education Center at the Kremen School of Education and Human Development.
From truck driving to daycare, civil engineering grad finds success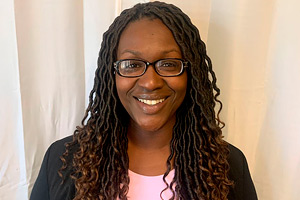 After five years of truck driving, Tiffany Barber moved to the Central Valley and started her own home daycare business. She didn't want to miss any more special moments with her son after his daycare provider told her about something he did for the first time. Still wanting a career with a consistent schedule that provided stability for her and her family, Barber decided to go back to school in 2012. She took night classes at Fresno City College before transferring to Fresno State in 2017.
Three-year grad creates her own history; while also majoring in it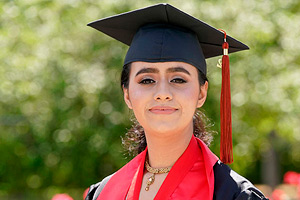 "Learning history is like peering through a window of the past," Noorjot Kaur remembers her Rio Vista Middle School teacher saying on the first day of class. As she sat in the front of the class, watching a slideshow on the importance of learning history, the aspiring attorney realized it was up to her to create her own. "In order to understand why I chose history as my major, one has to learn my history and that of my parents," Kaur said.